Books & Media
Cedarburg Public Library has physical materials and eMedia. Physical materials are available in the library and from other Monarch System libraries. Some eMedia are available to all Monarch System libraries while others are only available to Cedarburg Library cardholders.
Transparent Languages: Learn a variety of languages online. Accessible to ALL with a valid Monarch Library System card.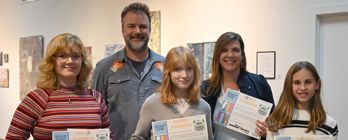 Support CPL and the Friends of the Library this season!
Libraries change lives. Your contribution to and participation in the Friends is a gift that enhances our community.
Support
What's Inside