Books & Media
Cedarburg Public Library has physical materials and eMedia. Physical materials are available in the library and from other Monarch System libraries. Some eMedia are available to all Monarch System libraries while others are only available to Cedarburg Library cardholders.
Transparent Languages: Learn a variety of languages online. Accessible to ALL with a valid Monarch Library System card.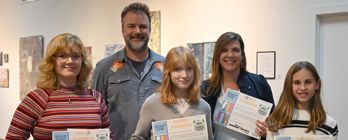 Cedarburg Reads and Writes 2023
Cedarburg Reads and Writes goes from August 1 - October 25!
More Info
What's Inside