About Us
Situated by the heart of the business district of an artist community, Cedarburg Public Library provides information and resources to all citizens of the community for their continuing recreational, educational, and cultural needs.
Mission
The Cedarburg Public Library welcomes everyone and encourages the pursuit of knowledge, creativity and connection to people and ideas. Believing in the freedom to read and explore, the library provides equal access to resources that promote literacy and lifelong learning.
About CPL
CPL is a member of the Monarch Library System. It is home to approximately 72,000 items including books, audiobooks, CDs, DVDs, magazines and newspapers. In addition to the physical collection, the Library offers online movie streaming, eBooks, eAudiobooks, and research databases, while also providing computers with Internet access, Microsoft Office software, and print capability, study rooms, and a Community Room.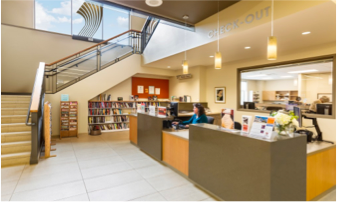 CPL offers many types of programming for all ages, from Storytime to Tracking the World's Hot Spots. Our brand new "Library of Things" provides patrons the opportunity to check out cookware, needle arts kits, memory care activity kits, and other tech devices. A rotating art exhibit of local artists' work and community radio station add to the many cultural offerings of Cedarburg, WI. Find more about Cedarburg Public Library on our website or on social media.
Cedarburg Public Library is one of thirty-one member libraries in the Monarch Library System
The Monarch system is comprised of libraries in;

Ozaukee
Sheboygan
Washington
Dodge counties

and it operates two bookmobiles in rural areas without a library nearby
The purpose of this cooperative group is to share resources so that library patrons have access to more material.
The Monarch Library System libraries have a shared online catalog called MonarchCat
MonarchCat provides patron access to all items owned by the Monarch libraries
In addition to physical material, MonarchCat provides access to electronic resources such as electronic books and databases.
What's Inside