Blog
Contributors
Audience
Subject
Successful Wrap Up of 2022 Cedarburg Reads...and Writes!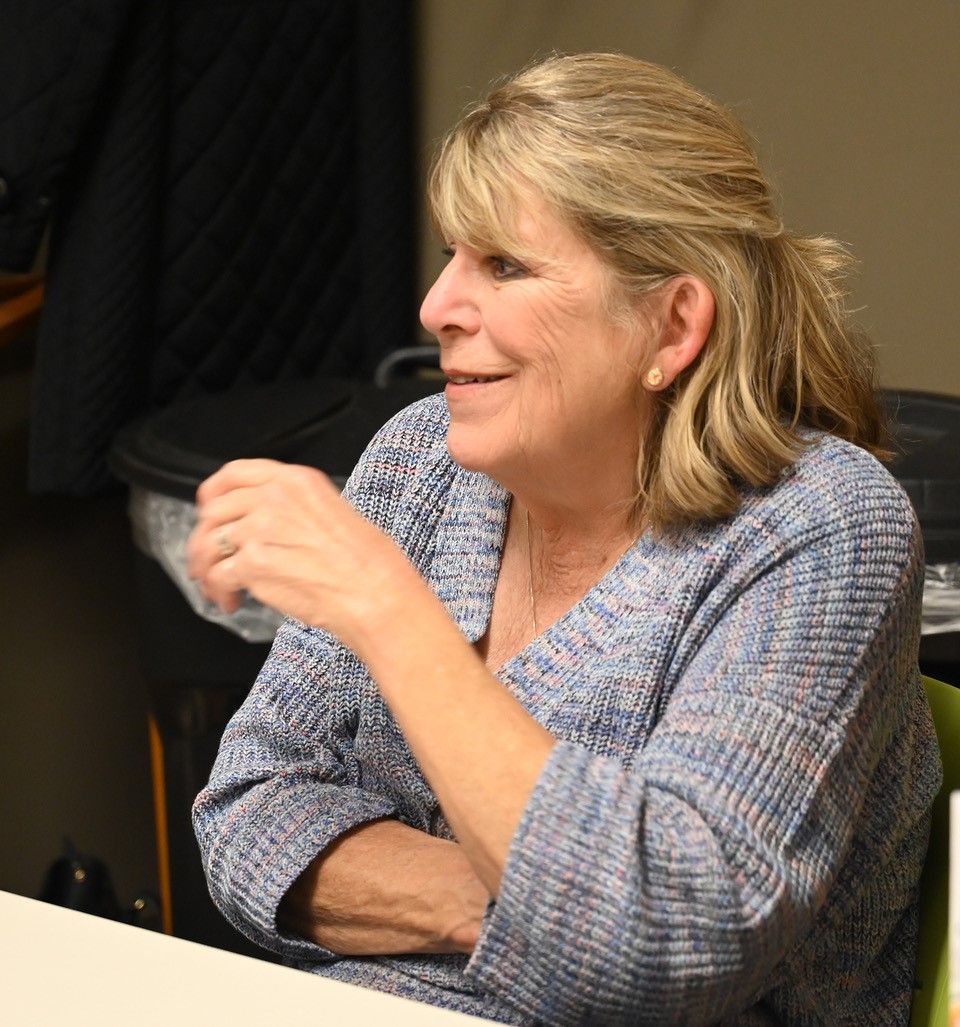 "My New York Times Best Seller book, Whistling in the Dark, was rejected over 150 times," confessed Lesley Kagen (right). Published in 2007, this was the first book Kagen ever wrote. "Self doubt is a writer's constant companion," she told the audience gathered for Cedarburg Reads and Writes final event. "Keep writing, don't give up," she concluded before announcing the winners of the first-ever Cedarburg Writes contest.
In total, 30 original short stories or creative nonfiction/memoirs based on the theme of "Hometown Memories" were received. Clare Birmingham took top honors in the adult category with her story entitled "A Eulogy of Home". In this heart-felt story, the author writes about having to say good-bye to her childhood home and the memories created within those walls. The writer relays the ups and downs of growing up in an old house with humor and emotion.
Marie LaRose, won the High School category with "After the Light", a haunting story about a 60-year-old man who has just died. As he is being transported to be laid to rest in his childhood cemetery, his spirit offers a grumpy perspective about his final journey, the town he'll be buried in, and the miserable life he led. Suddenly a boy, apparently a ghost of his younger self, is seen running alongside the hearse and meets them at the grave site with a message for the deceased.
Erin S., Grades 6-8 category, wrote "Dear Small Town". The first sentence reads: "I know you and you know me." In this story, Stank exchanges letters with her hometown and reminisces about the good times and not so good times growing up there. She asks the hometown if it remembers those times. "Of course" is the response which adds: "I know someday you'll leave ... but your impact will forever remain here."
Grades 3-5 category had a tie for first place between Emmett Barry and Emmalyn Griffin. Barry wrote "Hometown Memories" about a youngster who recalls how it felt when his family picked up and left Chicago to move to Cedarburg to open a retail business. He came home from school that last day of second grade and found the house empty except for a single roll of toilet paper. It made him feel sad, but by the time they arrived in Cedarburg and settled into their new home, he realized that he had a whole other life ahead of him to make memories.
Griffin's entry, "How You Speak Human?", told a story about living in Cedarburg from a pet's point of view. She tells the tale of two dogs who escape from their "humans" and got disoriented. But alas, "Ranger," the police canine comes to their rescue. When the dogs are reunited with their owners, they can finally understand the words spoken from their "humans."
"We were thrilled with the turnout," said Jean O'Keefe, Chair of Cedarburg Reads and Writes. "The judges said it was difficult to choose winners as the writing was by far some of the best they've seen…and yes, this will become part of our annual Reads event," she added.
Watch video chat with Lesley Kagen
Cedarburg Reads and Writes is underwritten by the Cedarburg Friends of the Library, a non-profit organization dedicated to supporting the Library and community outreach.